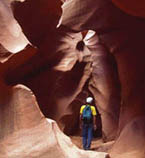 Two opposing heads
in profile frame the
entrance to one of the
most closely maintained
secrets in human history.
Introduction to the WingMakers' Time Capsule
(Code-named Ancient Arrow Project)
Nearly 27 years ago, mysterious artifacts were found that led to one of the most intriguing scientific and anthropological discoveries ever made. A secret, unacknowledged department of the NSA -- responsible for extraterrestrial contact and technology assimilation -- took the discovery into their laboratory for the purposes of their own agenda. This secret organization is known as the Advanced Contact Intelligence Organization (ACIO) and has enjoyed complete anonymity until now.
The discovery -- referred to by the ACIO as the Ancient Arrow project -- consisted of 23 chambers and connecting tunnels hollowed out deep within a huge, natural rock structure in a remote canyon of northern New Mexico. Inside this massive and well-hidden structure were incredible artifacts of a culture that was of indeterminate origins. In each of the 23 chambers were found wall paintings, various alien technologies, and strange, encoded hieroglyphs. By most appearances, the discovery was like a natural history museum from an alien race. It became known among the researchers as ETC or Extraterrestrial Time Capsule.
Because of carbon-dating analyses, it was initially assumed that this time capsule was left behind by extraterrestrials that had visited earth in the 8th century AD. However, it wasn't until 1997 that the encoded language found within the site and its artifacts became accessible to the ACIO. It was then that it was determined that the time capsule was actually designed and built by a future version of humankind who were adept at interactive time travel. They called themselves, WingMakers.
One of the scientists from the ACIO involved in developing the translation tables for the Ancient Arrow project, defected in December 1997, and has disclosed this secret project to a journalist named Anne. Anne is the author of this web site, and, under agreement with the aforementioned scientist, has placed these materials on the Internet for the purpose of exposing the WingMakers' time capsule to all who want to see, hear, and read its poignant and provocative message.
There are hundreds of pages of philosophy, photographs, poetry, new physics, music, and artifacts inside this site, all derived from the WingMakers' time capsule. This discovery is being introduced in December 1998 to a worldwide audience through the Internet. Please treat these materials respectfully and view them with an open mind. It is highly recommended that you read the Interview Transcripts between Anne and the scientist before you judge the validity of this site and the materials therein. At the very least, read the Story. This will give you the background on this important discovery.
Additional content will be added to this site as time permits. Anne is very reclusive at this time due to potential issues involving the ACIO and NSA, so please be patient for updates and new materials. There is no email, address, or phone number to contact anyone affiliated with the development of this site. The administrative and technical contacts for the domain, wingmakers.com, are not affiliated with this site or its content. Please respect their privacy. Thank you.
(Note from Anne: For those of you visiting this site for the first time, please be patient with the disclosure I've made related to the WingMakers and their time capsule. This is not an easy story to grasp or to tell. You'll need to be both persistent and patient in your review of these materials. It's taken me over six months to come to terms with the WingMakers and what their story is really all about. It's an enormous story, unlike anything I had ever experienced before. But it's worth the time and effort to investigate it, and if you do, don't be surprised if things in your life take on an entirely new perspective. That's what these materials can enable if you spend the time with them. I hope that you do.)
Special Note: The above is a copy of the introduction page to the original WingMakers website and Ancient Arrow Project. Should you choose to explore the current website at wingmakers.com, be aware that it has changed in many ways from its original form. The WingMakers story there has been seriously distorted. For further information on how the website has been changed and distorted, click here.